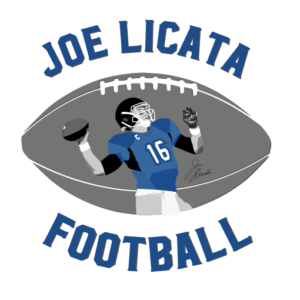 When? Two different time options.
Sundays from January 14th to March 18th
1:30pm-3:00pm
3:00pm-4:30pm
Spots are limited and will be first come, first served.  As soon as each group fills they will be taken off of the sign up below.
Includes one hour on field work and a half hour position meeting.
Where? Sportsplex (90 Ridge Road, North Tonawanda, NY 14120)
Quarterbacks 
Things we focus on-
Getting the ball out quickly and accurately
Firm base
Two handed throws
Hip torque
Three step game from under center and catch throw timing out of gun.
Five step game from under center, and 3 step out of gun
Directional dovetail drops
Throwing on the run
Pocket movement
Ball handling from under center, and in gun
Film Study/QB talk
Price- $450 ($425 if paid before Jan 1) due before the first session.
**Returning members of Joe Licata Football are charged $425 ($400 if paid before Jan 1)
Checks payable to Joe Licata Football, Inc. (email JoeLicataFootball@gmail.com for address)
Venmo- @JoeLicataFootball
Paypal- Paypal.me/JoeLicataFootball (NOTE: $15 charge for paypal usage)
*Must fill out the Waiver here*