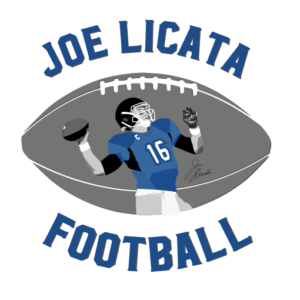 Joe Licata will coach Quarterbacks.
Joe Licata Football QUARTERBACK CLUB
WHEN?
6 sessions, Tuesday nights for 8 consecutive weeks starting Tuesday June 21st through August 9th (off 4th of July and July 26th)
June: 21st, 28th
July 12th, 19th
August 2nd, 9th
Entering grades 7-9 – 5:00 – 6:30 PM
Entering grades 10-12 – 7:30 – 9:00 PM first 3 sessions, then 6:30-8:00 PM July 19th, August 2nd and 9th)
Spots are limited and will be first come, first served. As soon as each group fills they will be taken off of the sign up below.
Where?
Sportsplex (90 Ridge Road, North Tonawanda NY, 14120)
Things we focus on-
Getting the ball out quickly and accurately
Firm base
Two handed throws
Hip torque
Three step game from under center and catch throw timing out of gun.
Five step game from under center, and 3 step out of gun
Directional dovetail drops
Throwing on the run
Pocket movement
Ball handling from under center, and in gun
Film Study/QB talk
If you would like to be a part of the Joe Licata Football's Summer Quarterback Club, fill in your details. You will receive a confirmation email and be registered upon completion of payment and Waiver.
Price is $315 due before the first session.
Please indicate if you would like to Pay via Credit Card/Check/Cash/Venmo below. Venmo name is @JoeLicataFootball. Checks to be made out to "Joe Licata Football, Inc." Address to be provided upon completion of registration.
REGISTER BY CLICKING HERE
PAYMENT IS DUE PRIOR TO THE FIRST SESSION.