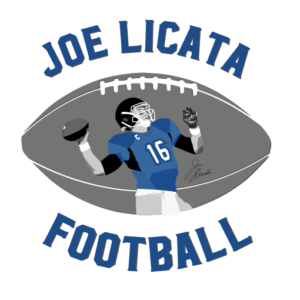 When? 5-week, 10 session program every Monday and Wednesday from June 19th-July 26th
**Off the week of July 4th**
7:00-8:30 (5:30-7:00 time available if demand is high enough)
Includes one hour on field work and a half hour position meeting.
Where? Sportsplex (90 Ridge Road, North Tonawanda, NY 14120)
Quarterbacks 
Things we focus on-
Getting the ball out quickly and accurately
Firm base
Two handed throws
Hip torque
Three step game from under center and catch throw timing out of gun.
Five step game from under center, and 3 step out of gun
Directional dovetail drops
Throwing on the run
Pocket movement
Ball handling from under center, and in gun
Film Study/QB talk
Wide Receivers 
Things we focus on-
Stance and get offs
Route running
Top of routes
Staying low out of breaks
Freeze framing the ball before tucking it away
Releases against press
Catching with distraction
Attacking the ball in the air
Film Study/WR talk
Offensive Line 
Things we focus on-
Stance and starts
Base blocking technique/Zone blocking technique
Second level reaching and engaging
Double-team blocking
Down/Pull blocking
Pass Pro Posture (PPP)
5-step Big on Big Protection
3-step zone protection
Passing off defensive line stunts
Reading Defensive Fronts

Difference between fronts/pressures
Film study/O-Line Talk 
Price- $425, due before the first session.
Returning members of Joe Licata Football are charged $400
Checks payable to Joe Licata Football, Inc. (email JoeLicataFootball@gmail.com for address)
Venmo- @JoeLicataFootball
Paypal- Paypal.me/JoeLicataFootball (Price is $440 or $415 for Paypal use)
*Must fill out the Waiver here*